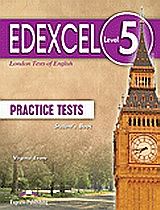 Διαθέσιμο
*Αποστολή σε 2-4 εργάσιμες μέρες
H τελική τιμή συμπεριλαμβάνει ΦΠΑ.

*Ενδέχεται κάποια βιβλία που δεν είναι σε απόθεμα στο βιβλιοπωλείο να προκύψουν ως εξαντλημένα στον εκδότη τους, στην περίπτωση αυτή θα λάβετε ενημέρωση εντός 2 ημερών
EDEXCEL London Tests of English 5: Student's Book
Practice Tests for EDEXCEL London Tests of English Level 5 is a collection of five complete practice tests based on the EDEXCEL International Format and Syllabus for the London Tests of English Level 5. These tests provide systematic exam preparation and practice in the tasks contained in the Level 5 syllabus.

Key features:

- An introductory section providing an overview of each of the five tasks included in each test.
- Five full practice tests for London Tests of English which offer a comprehensive range of the topics, vocabulary and structures included in the Level 5 syllabus.
- Photographs providing excellent visual material for the Level 5 optional Oral Examination.
- Audio CDs containing material for the listening tasks in test situation format

The Teacher's Book contains answers to all exercises in the Student's Book, tapescripts of the recorded material as well as model answers for the writing tasks and the Oral Examination section.

(2012) PRIME TIME UPPER-INTERMEDIATE STUDENT'S BOOK (+WRITING BOOK+ieBOOK), Express Publishing
(2012) Career Paths: Plumbing: Student's Book, Express Publishing
(2012) Prime Time Pre-Intermediate: Workbook and Grammar Book, Express Publishing
(2012) Prime Time Elementary: Teacher's Book (interleaved), Express Publishing
(2012) Upload Us 5: Teacher's Book, Express Publishing
(2012) Prime Time Intermediate: Workbook and Grammar Book, Express Publishing
(2012) Prime Time Pre-Intermediate: Teacher's Book (interleaved), Express Publishing
(2012) Career Paths: Construction I – Buildings: Student's Book, Express Publishing
(2012) Career Paths: Construction I – Buildings: Teacher's Book, Express Publishing
(2012) On Screen B2: Student's Book, Express Publishing
(2012) Prime Time Elementary: Student's Book, Express Publishing
(2012) Career Paths: Medical: Student's Book, Express Publishing
(2012) Prime Time Elementary: Workbook and Grammar Book, Express Publishing
(2012) FCE for Schools Practice Tests: Student's Book, Express Publishing
(2012) Career Paths: Medical: Teacher's Book, Express Publishing
(2012) Prime Time Intermediate: Student's Book, Express Publishing
(2012) Prime Time Pre-Intermediate: Student's Book, Express Publishing
(2012) Upload Us 5: Student Book and Workbook, Express Publishing
(2012) Prime Time Elementary: Teacher's Book (interleaved), Express Publishing
(2012) Pride and Prejudice, Express Publishing
(2012) Pride and Prejudice: Teacher's Book, Express Publishing
(2011) Practice Test for ESB Level 3 (C2): Teacher's Book, Express Publishing
(2011) Practice Test for ESB Level 3 (C2): Student's Book, Express Publishing
(2011) The Giant Turnip: Story Book, Express Publishing
(2011) Career Paths: Secretarial: Teacher's Book, Express Publishing
(2011) Career Paths: Banking: Student's Book, Express Publishing
(2011) Career Paths: Banking: Teacher's Book, Express Publishing
(2011) The Stone Flower: Reader, Express Publishing
(2011) Forum 3: Workbook, Express Publishing
(2011) Reading and Writing Targets 3: Student's Book, Express Publishing
(2011) Reading and Writing Targets 3: Teacher's Book, Express Publishing
(2011) Forum 3: Teacher's Book, Express Publishing
(2011) Career Paths: Nursing: Student's Book, Express Publishing
(2011) Career Paths: Nursing: Teacher's Book, Express Publishing
(2011) Career Paths: Secretarial: Student's Book, Express Publishing
(2011) Career Paths: Beauty Salon: Teacher's Book, Express Publishing
(2011) Spark 3 (Monstertrackers): Test Booklet, Express Publishing
(2011) Career Paths: Beauty Salon: Student's Book, Express Publishing
(2011) Forum 3: Companion, Express Publishing
(2011) Forum 3: Student's Book, Express Publishing
(2011) Moby Dick: Teacher's Book, Express Publishing
(2011) Spark 4 (Monstertrackers): Grammar Book Key, Express Publishing
(2011) Prime Time 4: Student Book and Workbook, Express Publishing
(2011) Prime Time 4: Teacher's Book, Express Publishing
(2011) Spark 4: Grammar Book, Express Publishing
(2011) Spark 4: Companion, Express Publishing
(2011) Spark 4 (Monstertrackers): Grammar Test Booklet, Express Publishing
(2011) Fun with English 1 Primary: Key, Express Publishing
(2011) Prime Time 3 American English: Teacher's Book, Express Publishing
(2011) Prime Time 3 American English: Student Book and Workbook, Express Publishing
(2011) Practice Test for ESB Level 1 (B2): Student's Book, Express Publishing
(2011) Spark 4 (Monstertrackers): Teacher's Book (interleaved), Express Publishing
(2011) Fun with English 4 Primary: Pupil's Book, Express Publishing
(2011) Fun with English 5 Primary: Pupil's Book, Express Publishing
(2011) Fun with English 6 Primary: Pupil's Book, Express Publishing
(2011) Career Paths: Hotels & Catering: Student's Book, Express Publishing
(2011) Spark 4 (Monstertrackers): Workbook, Express Publishing
(2011) Stars and Stripes Michigan ECPE: Skills Builder: Teacher's Book, Express Publishing
(2011) Fun with English 2 Primary: Pupil's Book, Express Publishing
(2011) Fun with English 3 Primary: Pupil's Book, Express Publishing
(2011) Career Paths: Tourism: Student's Book, Express Publishing
(2011) Career Paths: Information Technology: Student's Book, Express Publishing
(2011) Practice Test PTE General Level 2: Student's Book, Express Publishing
(2011) Practice Test PTE General Level 2: Teacher's Book, Express Publishing
(2011) Practice Test PTE General Level 3: Teacher's Book, Express Publishing
(2011) Practice Test PTE General Level 3: Student's Book, Express Publishing
(2011) Career Paths: Information Technology: Teacher's Book, Express Publishing
(2011) Career Paths: Hotels & Catering: Teacher's Book, Express Publishing
(2011) Sivka-Burka: Teacher's Edition, Express Publishing
(2010) FCE Practice Exam Papers 1: Glossary, Express Publishing
(2010) Fairyland Junior A: Vocabulary and Grammar Practice, Express Publishing
(2010) Fairyland Junior B: Vocabulary and Grammar Practice, Express Publishing
(2010) Fairyland Junior B: Activity Book, Express Publishing
(2010) Spark 1: Student's Book, Express Publishing
(2010) Spark 1: Student's Book Pack, Express Publishing
(2010) Spark 1: Workbook, Express Publishing
(2010) Spark 1: Companion, Express Publishing
(2010) Spark 2: Student's Book Pack, Express Publishing
(2010) Spark 3: Student's Book, Express Publishing
(2010) Spark 3: Companion, Express Publishing
(2010) Fairyland Junior B: Pupil's Book, Express Publishing
(2010) Fairyland Junior B Pack: Teacher's Book, Express Publishing
(2010) Fairyland Junior A: Teacher's Book, Express Publishing
(2010) Fairyland Junior A: Activity Book, Express Publishing
(2010) Fairyland Junior B: Picture Flashcards, Express Publishing
(2010) Fairyland Junior B: Booklet, Express Publishing
(2010) Fairyland Junior B: Teacher's Resource Pack, Express Publishing
(2010) FCE Practice Exam Papers 1: Student's Book, Express Publishing
(2010) FCE Listening and Speaking Skills 1: Student's Book, Express Publishing
(2010) FCE Practice Exam Papers 1: Teacher's Book, Express Publishing
(2010) Stars and Stripes Michigan ECPE: Coursebook Companion, Express Publishing
(2010) FCE Practice Exam Papers 2: Student's Book, Express Publishing
(2010) FCE Practice Exam Papers 2: Teacher's Book, Express Publishing
(2010) FCE Practice Exam Papers 2: Glossary, Express Publishing
(2010) FCE Listening & Speaking Skills 2: Student's Book, Express Publishing
(2010) FCE Practice Tests 1: Student's Book, Express Publishing
(2010) FCE Practice Tests 1: Teacher's Book, Express Publishing
(2010) FCE Practice Tests 2: Student's Book, Express Publishing
(2010) FCE Practice Tests 2: Teacher's Book, Express Publishing
(2010) Practice Tests for the Michigan ECCE 1: Student's Book, Express Publishing
(2010) Practice Tests for the Michigan ECCE 1: Teacher's Book, Express Publishing
(2010) Practice Tests for the Michigan ECCE 2: Student's Book, Express Publishing
(2010) Practice Tests for the Michigan ECCE 2: Teacher's Book, Express Publishing
(2010) Tests for the Michigan ECPE 1: Student's Book, Express Publishing
(2010) Tests for the Michigan ECPE 1: Key, Express Publishing
(2010) Tests for the Michigan ECPE 2: Student's Book, Express Publishing
(2010) Tests for the Michigan ECPE 2: Key, Express Publishing
(2010) Tests for the Michigan ECPE 3: Student's Book, Express Publishing
(2010) Tests for the Michigan ECPE 3: Key, Express Publishing
(2010) Stars and Stripes Michigan ECPE: Student's Book, Express Publishing
(2010) Stars and Stripes Michigan ECPE: Teacher's Book, Express Publishing
(2010) Stars and Stripes Michigan ECPE Skills Builder: Student's Book, Express Publishing
(2010) Stars and Stripes Michigan ECPE Skills Builder: Teacher's Book, Express Publishing
(2010) Stars and Stripes Michigan ECPE: Test Booklet, Express Publishing
(2010) Stars and Stripes Michigan ECPE: Study Companion, Express Publishing
(2010) Stars and Stripes Michigan ECPE: Skills Builder Study Companion, Express Publishing
(2010) CAE Practice Tests 1: Student's Book, Express Publishing
(2010) CAE Practice Tests 1: Teacher's Book, Express Publishing
(2010) Fairyland Junior A: Pupil's Book, Express Publishing
(2010) Fairyland Junior A: Teacher's Book, Express Publishing
(2010) Fairyland Junior A: Booklet, Express Publishing
(2010) Fairyland Junior A: Teacher's Resource Pack, Express Publishing
(2010) Fairyland Junior A: Test Booklet, Express Publishing
(2010) Fairyland Junior A: Puppet Show Pack, Express Publishing
(2010) Spark 1: Teacher's Book, Express Publishing
(2010) Spark 1: Grammar, Express Publishing
(2010) Spark 1: Grammar Book Key, Express Publishing
(2010) Spark 1: Teacher's Resource Pack and Test, Express Publishing
(2010) Spark 1: Test Booklet, Express Publishing
(2010) Spark 2: Student's Book, Express Publishing
(2010) Spark 2: Teacher's Book, Express Publishing
(2010) Spark 2: Workbook, Express Publishing
(2010) Spark 2: Companion, Express Publishing
(2010) Spark 2: Grammar Book, Express Publishing
(2010) Spark 2: Grammar Book Key, Express Publishing
(2010) Spark 2: Teacher's Resource Pack and Tests, Express Publishing
(2010) Spark 3: Student's Book Pack, Express Publishing
(2010) Spark 3: Teacher's Book, Express Publishing
(2010) Spark 3: Workbook, Express Publishing
(2010) Spark 3: Teacher's Resource Pack and Tests, Express Publishing
(2010) Spark 3: Grammar Book Key, Express Publishing
(2010) Spark 3: Grammar Book, Express Publishing
(2010) Fairyland Junior B Pack: Pupil's Book, Express Publishing
(2010) Fairyland Junior B: Teacher's Book, Express Publishing
(2010) Fairyland Junior B: Test Booklet, Express Publishing
(2010) Fairyland Junior B: Puppet Show Pack, Express Publishing
(2010) Fairyland 3: Pupil's Book, Express Publishing
(2010) Fairyland 3 Pack: Pupil's Book, Express Publishing
(2010) Fairyland 3: Teacher's Book, Express Publishing
(2010) Fairyland 3 Pack: Teacher's Book, Express Publishing
(2010) Fairyland 3: Activity Book, Express Publishing
(2010) Fairyland 3: Vocabulary and Grammar Practice, Express Publishing
(2010) Fairyland 3: Alphabet Book, Express Publishing
(2010) Fairyland 4: Pupil's Book, Express Publishing
(2010) Fairyland 4 Pack: Pupil's Book, Express Publishing
(2010) Fairyland 4: Teacher's Book, Express Publishing
(2010) Fairyland 4 Pack: Teacher's Book, Express Publishing
(2010) Fairyland 4: Activity Book, Express Publishing
(2010) Fairyland 4: Vocabulary and Grammar Practice, Express Publishing
(2009) Mich ECCE - All Star Extra 1 PT Pack, Express Publishing
(2009) Fairyland Junior A+B: Pupil's Book Pack (+ Booklet, DVD PAL and Certificate), Express Publishing
(2009) State Exam Practice Test B2: Student's Book, Express Publishing
(2009) State Exam Practice Test B2: Teacher's Book, Express Publishing
(2009) Fairyland Pre-Junior: Coursebook, Express Publishing
(2009) Fairyland Pre-Junior: Picture Flashcards, Express Publishing
(2009) Fairyland Pre-Junior: Activity Book, Express Publishing
(2009) Fairyland Pre-Junior: Teacher's Book, Express Publishing
(2009) Fairyland 2: Vocabulary and Grammar, Express Publishing
(2009) Wishes: Mini Dictionary, Express Publishing
(2009) Fairyland Junior A + B: Vocabulary and Grammar Practice, Express Publishing
(2009) Wishes B2.2: Workbook Companion, Express Publishing
(2009) Upstream Intermediate B2: Companion, Express Publishing
(2009) Upstream Upper Intermediate B2+: Companion, Express Publishing
(2009) New Round-Up Junior B, Express Publishing
(2009) Upstream Advanced C1: Companion, Express Publishing
(2009) CPE Listening and Speaking Skills 1: Student's Book, Express Publishing
(2009) CPE Listening and Speaking Skills 1: Teacher's Book, Express Publishing
(2009) Fairyland Pre-Junior: Pack: Teacher's Book, Express Publishing
(2009) Fairyland Junior A+B: Pupil's Book, Express Publishing
(2009) Fairyland Junior A+B: Teacher's Book, Express Publishing
(2009) Fairyland Junior A+B: Teacher's Book Pack, Express Publishing
(2009) Fairyland Junior A+B: Activity Book, Express Publishing
(2009) Fairyland Junior A+B: Booklet, Express Publishing
(2009) Fairyland Junior A+B: Teacher's Resource Pack, Express Publishing
(2009) Fairyland Junior A+B: Test Booklet, Express Publishing
(2009) Fairyland Junior A+B: Picture Flashcards, Express Publishing
(2009) Fairyland 2: Pupil's Book, Express Publishing
(2009) Fairyland 2: Pupil's Book (+ Certificate), Express Publishing
(2009) Fairyland 2: Pupil's Book (+ Pupil's Audio CD, DVD PAL and Certificate), Express Publishing
(2009) Fairyland 2: Teacher's Book, Express Publishing
(2009) Fairyland 2: Teacher's Book Pack, Express Publishing
(2009) Fairyland 2: Activity Book, Express Publishing
(2009) Fairyland 2: Teacher's Resource Pack, Express Publishing
(2009) Fairyland 2: Picture Flashcards, Express Publishing
(2009) Fairyland 2: My Language Portfolio, Express Publishing
(2009) Fairyland 2: Vocabulary & Grammar, Express Publishing
(2009) Fairyland 2: Vocabulary and Grammar Pack, Express Publishing
(2008) Wishes Level B2.2: Study Companion, Express Publishing
(2008) Access 3: Grammar Book Plus, Express Publishing
(2008) Upstream B2+, Express Publishing
(2008) Upstream B2, Express Publishing
(2008) Upstream C1, Express Publishing
(2008) Stars and Stripes Michigan ECCE: Coursebook Companion, Express Publishing
(2008) Forum 2: Companion, Express Publishing
(2008) Access 2: Companion, Express Publishing
(2008) Access 3: Companion, Express Publishing
(2008) Access 4: Companion, Express Publishing
(2008) Forum 1: Companion, Express Publishing
(2008) Access 4: Grammar Book, Express Publishing
(2008) Stars and Stripes Michigan ECCE: Skills Builder Companion, Express Publishing
(2008) Wishes Level B2.1: Companion, Express Publishing
(2008) Access 2: Grammar Book, Express Publishing
(2008) Access 3: Student's Pack: Student's Book and Grammar Book, Express Publishing
(2008) Access 1:Student's Book, Express Publishing
(2008) Practice Tests for the Revised CPE 2: Glossary, Express Publishing
(2008) Access1: Companion, Express Publishing
(2008) Access 1: Grammar Book, Express Publishing
(2008) Access 1: Student's Pack: Student's Book and Grammar Book, Express Publishing
(2008) Access 1: Teacher's Resource Pack and Tests, Express Publishing
(2008) Access 1: Workbook, Express Publishing
(2008) Access 1: Teacher's Book, Express Publishing
(2008) Fairyland Pre-Junior: Teacher's Resource Pack, Express Publishing
(2008) Access 3: Study Companion, Express Publishing
(2008) Access 4: Study Companion, Express Publishing
(2008) Access 4: Student's Book, Express Publishing
(2008) Access 4: Student's Pack: Student's Book, Express Publishing
(2008) Access 4: Student's Pack: Student's Book and Student's Grammar, Express Publishing
(2008) Access 4: Teacher's Book, Express Publishing
(2008) Access 4: Workbook, Express Publishing
(2008) Access 4: Grammar Book, Express Publishing
(2008) Access 4: Grammar Book Key, Express Publishing
(2008) Access 4: Grammar Test Booklet, Express Publishing
(2008) Access 4: Teacher's Resource Pack and Tests, Express Publishing
(2008) Access 4: Test Booklet, Express Publishing
(2008) Access 4: My Language Portfolio, Express Publishing
(2008) Access 3: Student's Book, Express Publishing
(2008) Access 4: Student's Pack: Student's Book and Grammar Book, Express Publishing
(2008) Access 4: Workbook Pack, Express Publishing
(2008) Access 3: Student's Pack: Student's Book, Express Publishing
(2008) Access 3: Student's Pack: Student's Book and Grammar Book, Express Publishing
(2008) Access 3: Teacher's Book, Express Publishing
(2008) Access 3: Workbook, Express Publishing
(2008) Access 3: Grammar Book Plus, Express Publishing
(2008) Access 3: Grammar Book Plus Key, Express Publishing
(2008) Access 3: Teacher's Resource Pack and Tests, Express Publishing
(2008) Access 3: Test Booklet, Express Publishing
(2008) Access 3: Test Booklet Key, Express Publishing
(2008) Access 3: My Language Portfolio, Express Publishing
(2008) Access 3: Workbook Pack, Express Publishing
(2008) Access 2: Student's Book, Express Publishing
(2008) Access 2: Student's Book, Express Publishing
(2008) Access 2: Student's Pack: Student's Book and Grammar Book, Express Publishing
(2008) Access 2: Teacher's Book, Express Publishing
(2008) Access 2: Workbook, Express Publishing
(2008) Access 2: Grammar Book, Express Publishing
(2008) Access 2: Grammar Book Key, Express Publishing
(2008) Access 2: Teacher's Resource Pack and Tests, Express Publishing
(2008) Access 2: Test Booklet, Express Publishing
(2008) Access 2: Test Booklet Key, Express Publishing
(2008) Access 2: Stundent's Pack: Student's Book and Grammar Book, Express Publishing
(2008) Access 2: Workbook, Express Publishing
(2008) Access 2: My Language Portfolio, Express Publishing
(2008) Access 1: Stundent's Pack: Student's Book, Express Publishing
(2008) Access 1: Pack: Student's Book and Grammar Book, Express Publishing
(2008) Access 1: Grammar Book, Express Publishing
(2008) Access 1: Grammar Book Key, Express Publishing
(2008) Access 1: Test Booklet, Express Publishing
(2008) Access 1: My Language Portfolio, Express Publishing
(2008) Access 1: Workbook Pack, Express Publishing
(2008) CPE Listening and Speaking Skills 2: Student's Book, Express Publishing
(2008) CPE Listening and Speaking Skills 2: Teacher's Book, Express Publishing
(2008) Practice Tests for the Revised CPE 2: Student's Book, Express Publishing
(2008) Practice Tests for the Revised CPE 2: Teacher's Book, Express Publishing
(2008) Practice Tests for the Revised CPE 2: Key, Express Publishing
(2008) Fairyland 1: Pupil's Book, Express Publishing
(2008) Fairyland 1: Pupil's Book Pack, Express Publishing
(2008) Fairyland 1: Teacher's Book, Express Publishing
(2008) Fairyland 1: Teacher's Book Pack, Express Publishing
(2008) Fairyland 1: Activity Book, Express Publishing
(2008) Fairyland 1: Pupil's Book Pack, Express Publishing
(2007) Upstream Level B1+, Express Publishing
(2007) Wishes: Mini Dictionary, Express Publishing
(2007) Click on 1: Study Companion, Express Publishing
(2007) Stars and Stripes Michigan ECCE: Skills Builder Study Companion, Express Publishing
(2007) Stars and Stripes Michigan ECCE: Coursebook Mini Dictionary, Express Publishing
(2007) Blockbuster 4, Express Publishing
(2007) Upstream B1+, Express Publishing
(2007) Fairyland Junior B, Express Publishing
(2007) Stars and Stripes Michigan ECCE: Teacher's Book, Express Publishing
(2007) Click On 1, Express Publishing
(2007) Blockbuster 2 Us Edition, Express Publishing
(2007) Welcome , Express Publishing
(2007) Wizard of Oz, Express Publishing
(2007) Wishes B2.1, Express Publishing
(2007) Peter Pan, Express Publishing
(2007) Peter Pan, Express Publishing
(2007) Mowgli, Express Publishing
(2007) Stars and Stripes Michigan ECCE: Student's Book, Express Publishing
(2007) Stars & Stripes Michigan ECCE: Skills Builder: Teacher's Book, Express Publishing
(2007) Stars & Stripes Michigan ECCE: Skills Builder: Student's Book, Express Publishing
(2007) Henry Hippo, Express Publishing
(2007) FCE Use Of English 1 Revised, Express Publishing
(2007) Wishes B2.1, Express Publishing
(2007) Blockbuster 4 , Express Publishing
(2007) The Ugly Duckling, Express Publishing
(2007) Wishes B2.1, Express Publishing
(2007) Wishes B2.1, Express Publishing
(2007) Trinity B2 Skills, Express Publishing
(2007) Wishes B2.1, Express Publishing
(2007) Upstream Elementary A2 , Express Publishing
(2007) Wishes B2.1, Express Publishing
(2007) Stars & Stripes Michigan ECCE: Test Booklet, Express Publishing
(2006) Blockbuster 4, Express Publishing
(2006) Upstream Level B1+, Express Publishing
(2006) Blockbuster 4, Express Publishing
(2006) Welcome to America 1, Express Publishing
(2006) Upstream Beginner A1+, Express Publishing
(2006) Upstream Beginner A1+, Express Publishing
(2006) Upstream Elementary A2, Express Publishing
(2006) Upstream Βeginner A1+, Express Publishing
(2006) Practice Tests for the Revised CPE 3: Glossary, Express Publishing
(2006) Practice Tests for the Revised CPE 3: Student's Book, Express Publishing
(2006) Practice Tests for the Revised CPE 3: Teacher's Book, Express Publishing
(2006) Practice Tests for the Revised CPE 3: Key, Express Publishing
(2005) Upstream Elementary A2, Express Publishing
(2005) Blockbuster 3, Express Publishing
(2005) Set Sail 4, Express Publishing
(2005) Welcome Starter B, Express Publishing
(2005) Blockbuster 3, Express Publishing
(2005) Blockbuster 3, Express Publishing
(2005) Blockbuster 2, Express Publishing
(2005) Blockbuster 2, Express Publishing
(2005) Blockbuster 2, Express Publishing
(2005) Set Sail 4, Express Publishing
(2005) Welcome Starter A, Express Publishing
(2005) Blockbuster 2, Express Publishing
(2004) Upstream Pre-Intermediate, Express Publishing
(2004) Blockbuster 1, Express Publishing
(2004) Blockbuster 1, Express Publishing
(2004) Sail Away 2, Express Publishing
(2004) Upstream Pre-Intermediate B1, Express Publishing
(2004) Welcome 1, Express Publishing
(2004) Welcome 2, Express Publishing
(2004) Welcome 3, Express Publishing
(2004) Enterprise Beginner, Express Publishing
(2004) Enterprise Elementary 2, Express Publishing
(2004) Sail Away 2, Express Publishing
(2004) Welcome Plus 1, Express Publishing
(2004) Welcome Plus 2, Express Publishing
(2004) Welcome Plus 3, Express Publishing
(2004) Welcome Plus 4, Express Publishing
(2004) Welcome Plus 5, Express Publishing
(2004) Welcome Plus 6, Express Publishing
(2004) Click on 1, Express Publishing
(2004) Click on 2, Express Publishing
(2004) Set Sail 3, Express Publishing
(2004) Set Sail 3, Express Publishing
(2004) Set Sail 3, Express Publishing
(2004) Welcome Aboard 1, Express Publishing
(2004) Welcome Aboard 2, Express Publishing
(2004) Welcome Aboard 2, Express Publishing
(2004) Welcome Starter B, Express Publishing
(2004) Blockbuster 1, Express Publishing
(2004) Blockbuster 1, Express Publishing
(2004) EDEXCEL London Tests of English 4: Student's Book, Express Publishing
(2004) EDEXCEL London Tests of English 4: Key, Express Publishing
(2004) EDEXCEL London Tests of English 4: Class Audio Cds, Express Publishing
(2004) EDEXCEL London Tests of English 5: Key, Express Publishing
(2004) Upstream Pre-Intermediate 3, Express Publishing
(2003) Enterprise Plus. Pre-intermediate, Express Publishing
(2003) Click on 1, Express Publishing
(2003) Click on 2, Express Publishing
(2003) Click on Starter, Express Publishing
(2003) Upstream Intermediate, Express Publishing
(2003) Enterprise 1. Beginner, Express Publishing
(2003) Enterprise 2. Elementary, Express Publishing
(2003) Enterprise 4, Express Publishing
(2003) Click on, Express Publishing
(2003) Click on 4, Express Publishing
(2003) Mission 1, Express Publishing
(2003) Upstream Upper Intermediate, Express Publishing
(2003) Enterprise plus. Pre-intermediate, Express Publishing
(2003) Upstream Advanced, Express Publishing
(2003) Sail Away 1, Express Publishing
(2003) Sail Away 1, Express Publishing
(2003) Multipack Practice Tests B2, Express Publishing
(2003) Multipack Practice Tests B2, Express Publishing
(2003) Upstream Advanced, Express Publishing
(2003) Set Sail 2, Express Publishing
(2003) Welcome Plus 1, Express Publishing
(2002) Click on 4, Express Publishing
(2002) Click on 4, Express Publishing
(2002) Click on Starter, Express Publishing
(2002) Click on Starter, Express Publishing
(2002) Click on Starter, Express Publishing
(2002) Click on Starter, Express Publishing
(2002) Click on Starter, Express Publishing
(2002) Click on 2, Express Publishing
(2002) Click on 3, Express Publishing
(2002) Click on 4, Express Publishing
(2002) Click on 4, Express Publishing
(2002) Click on 4, Express Publishing
(2002) Click on 4, Express Publishing
(2002) Enterprise plus. Pre-intermediate, Express Publishing
(2002) Enterprise Plus. Pre-intermediate, Express Publishing
(2002) Enterprise Plus. Pre-intermediate, Express Publishing
(2002) Enterprise Plus. Pre-intermediate, Express Publishing
(2002) Enterprise Plus. Pre-intermediate, Express Publishing
(2002) Enterprise Plus. Pre-intermediate, Express Publishing
(2002) Practice Tests for the Revised CPE 2, Express Publishing
(2002) Practice Tests for the Revised CPE 2, Express Publishing
(2002) Entry Tests 2 for the Revised Cambridge Proficiency Examination, Express Publishing
(2002) Entry Tests 2 for the Revised Cambridge Proficiency Examination, Express Publishing
(2002) Companion Enterprise Plus, Express Publishing
(2002) Enterprise Plus. Pre-intermediate, Express Publishing
(2002) Upstream Intermediate, Express Publishing
(2002) Upstream Proficiency, Express Publishing
(2002) Enterprise 1, Beginner, Express Publishing
(2002) Enterprise 2, Elementary, Express Publishing
(2001) Click on 3, Express Publishing
(2001) Click on 3, Express Publishing
(2001) Click on 2, Express Publishing
(2001) Practice Exam Papers 2, Express Publishing
(2001) Practice Exam Papers 3, Express Publishing
(2001) Practice Exam Papers 2 and FCE Listening and Speaking Skills 2, Express Publishing
(2001) Enterprise 4 Intermediate, Express Publishing
(2001) FCE Practice Tests 1, Express Publishing
(2001) FCE Practice Tests 2, Express Publishing
(2001) Listening and Speaking Skills 1, Express Publishing
(2001) Listening and Speaking Skills 1, Express Publishing
(2001) Listening and Speaking Skills 2, Express Publishing
(2001) Grammarway 2, Express Publishing
(2001) Grammarway 2, Express Publishing
(2001) Practice Tests for the Michigan ECCE 1, Express Publishing
(2001) Practice Tests for the Michigan ECCE 1, Express Publishing
(2001) Practice Tests for the Michigan ECCE 2, Express Publishing
(2001) Welcome 1, Express Publishing
(2001) Welcome 1, Express Publishing
(2001) CAE Practice Tests: Student's Book, Express Publishing
(2001) CAE Practice Tests: Teacher's Book, Express Publishing
(2001) Welcome 2, Express Publishing
(2001) Welcome Plus 2, Express Publishing
(2001) Welcome Plus 2, Express Publishing
(2001) Welcome 3, Express Publishing
(2001) Welcome 3, Express Publishing
(2001) Click on 2, Express Publishing
(2001) Welcome 3, Express Publishing
(2001) Click on 2, Express Publishing
(2001) Welcome 3, Express Publishing
(2001) Welcome 3, Express Publishing
(2001) Click on 2, Express Publishing
(2001) Click on 2, Express Publishing
(2001) Click on 2, Express Publishing
(2001) Welcome Plus 3, Express Publishing
(2001) Click on 1, Express Publishing
(2001) Click on 1, Express Publishing
(2001) Welcome Plus 5, Express Publishing
(2001) Welcome Plus 5, Express Publishing
(2001) Welcome Plus 5, Express Publishing
(2001) Welcome Plus 5, Express Publishing
(2001) Welcome Plus 5, Express Publishing
(2001) Click on 3, Express Publishing
(2001) Welcome Plus 6, Express Publishing
(2001) Click on 3, Express Publishing
(2001) Welcome Plus 6, Express Publishing
(2001) Welcome Plus 6, Express Publishing
(2001) Welcome Plus 6, Express Publishing
(2001) Click on 3, Express Publishing
(2001) Welcome Plus 6, Express Publishing
(2001) Click on 3, Express Publishing
(2001) Set Sail 1, Express Publishing
(2001) Set Sail 1, Express Publishing
(2001) Set Sail 1, Express Publishing
(2001) Set Sail 1, Express Publishing
(2001) Set Sail 1, Express Publishing
(2001) Set Sail 1, Express Publishing
(2001) Set Sail 2, Express Publishing
(2001) Set Sail 2, Express Publishing
(2001) Set Sail 2, Express Publishing
(2001) Set Sail 2, Express Publishing
(2001) Set Sail 2, Express Publishing
(2001) Set Sail 2, Express Publishing
(2001) ECPE 1, Express Publishing
(2001) ECPE 1, Express Publishing
(2001) ECPE 1, Express Publishing
(2001) ECPE 1, Express Publishing
(2001) ECPE 2, Express Publishing
(2001) ECPE 2, Express Publishing
(2001) Letterfun, Express Publishing
(2001) Letterfun, Express Publishing
(2001) Letterfun, Express Publishing
(2001) Enterprise 4 Intermediate, Express Publishing
(2001) Enterprise 4 Intermediate, Express Publishing
(2001) Practice Exam Papers 3 and FCE Listening and Speaking Skills, Express Publishing
(2001) Entry Tests for the Revised Cambridge Proficiency Examination, Express Publishing
(2001) Entry Tests for the Revised Cambridge Proficiency Examination, Express Publishing
(2001) Click on 1, Express Publishing
(2001) Practice Tests for the Revised CPE 1: Glossary, Express Publishing
(2001) Practice Tests for the Revised CPE 1: Student's Book, Express Publishing
(2001) Practice Tests for the Revised CPE 1: Teacher's Book, Express Publishing
(2001) Practice Tests for the Revised CPE 1: Key, Express Publishing
(2000) Mission FCE 2, Express Publishing
(2000) Practice Exam Papers 1, Express Publishing
(2000) Practice Exam Papers 1 and FCE Listening and Speaking Skills, Express Publishing
(2000) FCE Use of English 1, Express Publishing
(2000) FCE Use of English 2, Express Publishing
(2000) FCE Use of English 2, Express Publishing
(2000) Successful Writing Proficiency, Express Publishing
(2000) FCE Practice Tests 1, Express Publishing
(2000) FCE Practice Tests 2, Express Publishing
(2000) FCE Listening and Speaking Skills 1, Express Publishing
(2000) Listening and Speaking Skills 2, Express Publishing
(2000) Reading and Writing Targets 1, Express Publishing
(2000) Reading and Writing Targets 2, Express Publishing
(2000) Grammarway 1, Express Publishing
(2000) Welcome Plus 1, Express Publishing
(2000) Welcome Plus 1, Express Publishing
(2000) Welcome Plus 1, Express Publishing
(2000) Welcome Plus 1, Express Publishing
(2000) Welcome Plus 1, Express Publishing
(2000) Welcome Plus 1, Express Publishing
(2000) Welcome 2, Express Publishing
(2000) Welcome 2, Express Publishing
(2000) Welcome 2, Express Publishing
(2000) Welcome 2, Express Publishing
(2000) Welcome Plus 2, Express Publishing
(2000) Welcome Plus 2, Express Publishing
(2000) Welcome Plus 2, Express Publishing
(2000) Welcome Plus 2, Express Publishing
(2000) Click on 1, Express Publishing
(2000) Welcome Plus 3, Express Publishing
(2000) Welcome Plus 3, Express Publishing
(2000) Welcome Plus 3, Express Publishing
(2000) Welcome Plus 3, Express Publishing
(2000) Welcome Plus 3, Express Publishing
(2000) Click on 1, Express Publishing
(2000) Click on 1, Express Publishing
(2000) Welcome Plus 4, Express Publishing
(2000) Click on 1, Express Publishing
(2000) Welcome Plus 4, Express Publishing
(2000) Welcome Plus 4, Express Publishing
(2000) Welcome Plus 4, Express Publishing
(2000) Welcome Plus 4, Express Publishing
(2000) Welcome Plus 4, Express Publishing
(2000) Enterprise 4 Intermediate, Express Publishing
(2000) Enterprise Grammar 4, Express Publishing
(2000) Enterprise Grammar 4, Express Publishing
(2000) Enterprise Grammar 4, Express Publishing
(2000) Enterprise Grammar 4, Express Publishing
(2000) Successful Writing 1 Intermediate, Express Publishing
(2000) Successful Writing 1 Intermediate, Express Publishing
(2000) Successful Writing 1 Intermediate, Express Publishing
(2000) Successful Writing 2 Upper-intermediate, Express Publishing
(2000) FCE Use of English 1, Express Publishing
(2000) Mission FCE 1, Express Publishing
(2000) Mission FCE 1, Express Publishing
(2000) Mission FCE 2, Express Publishing
(1999) A Good Turn of Phrase, Express Publishing
(1999) A Good Turn of Phrase, Express Publishing
(1999) Grammarway 3, Express Publishing
(1999) Grammarway 3, Express Publishing
(1999) Grammarway 3, Express Publishing
(1999) Picture Flash Cards for Grammar Way 3, Express Publishing
(1999) Enterprise 2, Elementary, Express Publishing
(1999) Enterprise 2, Elementary, Express Publishing
(1999) Enterprise 2, Elementary, Express Publishing
(1999) Practice Tests for the Michigan Examination for the Certificate of Competency in English, Express Publishing
(1999) Practice Test for the Michigan Examination for the Certificate of Competency in English, Express Publishing
(1999) Practice Tests for the Michigan Examination for the Certificate of Competency in English, Express Publishing
(1999) Practice Tests for the Michigan Examination for the Certificate of Competency in English, Express Publishing
(1999) FCE Listening and Speaking Skills 3, Express Publishing
(1999) Reading and Writing Targets 1, Express Publishing
(1999) Enterprise Grammar 2, Express Publishing
(1999) Enterprise Grammar 1, Express Publishing
(1999) Enterprise Grammar 1, Express Publishing
(1999) Enterprise Grammar 2, Express Publishing
(1999) Enterprise Grammar 2, Express Publishing
(1999) Enterprise Grammar 1, Express Publishing
(1999) Enterprise 2, Elementary, Express Publishing
(1999) Grammarway 4, Express Publishing
(1999) Grammarway 4, Express Publishing
(1999) Welcome 1, Express Publishing
(1999) Welcome 1, Express Publishing
(1999) Enterprise Grammar 3, Express Publishing
(1999) Enterprise Grammar 3, Express Publishing
(1999) Enterprise Grammar 3, Express Publishing
(1999) Reading and Writing Targets 1, Express Publishing
(1999) Reading and Writing Targets 2, Express Publishing
(1999) Reading and Writing Targets 3, Express Publishing
(1999) Reading and Writing Targets 3, Express Publishing
(1999) Reading and Writing Targets 3, Express Publishing
(1998) Successful Writing Proficiency, Express Publishing
(1998) A Good Turn of Phrase, Express Publishing
(1998) A Good Turn of Phrase, Express Publishing
(1998) Practice Exam Papers 3 and FCE Listening and Speaking Skills 3, Express Publishing
(1998) CPE Use of English, Express Publishing
(1998) Enterprise 3. Pre-Intermediate, Express Publishing
(1998) Enterprise 4 Intermediate, Express Publishing
(1998) Successful Writing Proficiency, Express Publishing
(1998) Successful Writing. Upper-Intermediate, Express Publishing
(1998) Preliminary Tests for Michigan Certificate of Proficiency in English. Final Tests for Michigan Certificate of Proficiency in English. Final Tests for Michigan Certificate of Proficiency in English 1, 2, Express Publishing
(1998) Preliminary Tests for Michigan Certificate of Proficiency in English, Express Publishing
(1998) Final Tests 2 for Michigan Certificate of Proficiency in English, Express Publishing
(1998) Final Tests 1 for Michigan Certificate of Proficiency in English, Express Publishing
(1998) Enterprise 4. Intermediate, Express Publishing
(1998) Enterprise 3. Pre-Intermediate, Express Publishing
(1998) FCE Listening and Speaking Skills 2, Express Publishing
(1998) Enterprise 1. Beginner, Express Publishing
(1998) Enterprise 1. Beginner, Express Publishing
(1998) Enterprise 1. Beginner, Express Publishing
(1998) Enterprise 1. Beginner. Companion, Express Publishing
(1998) Reading and Writing Targets 2, Express Publishing
(1998) Grammarway 1, Express Publishing
(1998) Grammarway 1, Express Publishing
(1998) Picture Flashcards for Grammarway 1, Express Publishing
(1998) Grammarway 2, Express Publishing
(1998) Picture Flashcards for Grammarway 2, Express Publishing
(1998) Successful Writing. Upper-Intermediate, Express Publishing
(1998) Fahrenheit 451 Study Pack, Express Publishing
(1998) Fahrenheit 451, Express Publishing
(1998) Round-Up. Starter, Express Publishing
(1998) Round-Up. Starter, Express Publishing
(1998) Picture Flashcards for Grammarway 2, Express Publishing
(1998) Practice Exam Papers 3, Express Publishing
(1997) Enterprise 3. Pre-Intermediate. Companion, Express Publishing
(1997) Enterprise 3. Pre-Intermediate, Express Publishing
(1997) Successful Writing. Upper-Intermediate, Express Publishing
(1997) Enterprise 4. Intermediate, Express Publishing
(1996) Final Tests for Michigan Certificate of Proficiency in English 1, 2, Express Publishing
(1996) Mission FCE 2, Express Publishing
(1996) Mission FCE 1, Express Publishing
(1996) Mission FCE 2, Express Publishing
(1996) Mission FCE 1, Express Publishing
(1996) FCE Listening and Speaking Skills, Express Publishing
(1996) Mission FCE 1, Express Publishing
() CPE Use of English, Express Publishing
() Welcome 1, Express Publishing